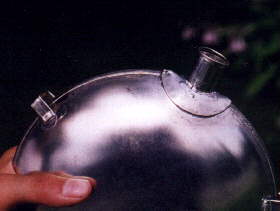 Close-up of a Cincinnati Arsenal style canteen spout. This is a Jarnagin made canteen that has been retro-fitted with proper width strap retainers and a tin spout with a rolled edge to replace the cast pewter spout that came with it. In order to do this conversion I need to be provided with an uncovered tin canteen that is in good condition. It does not have to be new but IT MUST BE TIN! NOT STAINLESS STEEL!
Charge for conversion (spout and strap retainers): $30.00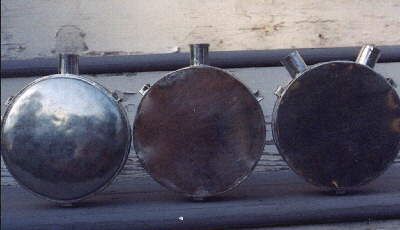 Three styles of Confederate or early war militia canteens. There was a great deal of variability in the details of construction of these canteens regarding spouts, strap retainers and exact size. Left to right: canteen with 1 "raised" side, the opposite side is flat - $XXXX (Canteens with raised sides are no longer being produced for sale to the general public); canteen with 2 flat sides - $60.00; double spouted cavalry style canteen - $70.00. (This style of double spouted canteen does not have a divided interior. With a divided interior price is $100.00.) For some nice pics and info on artifact and original Confederate canteens go to Jim Mayo's site.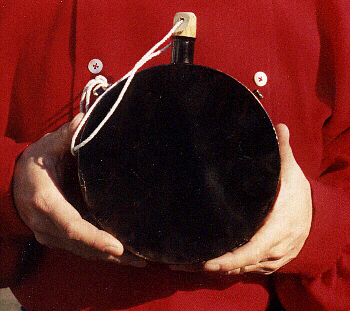 This is a reproduction of a canteen that is attributed to a Webster, Massachusetts militia unit ca. 1840. It is similar to other local volunteer militia canteens used in the United States before the Civil War. At almost 7" diameter it is larger than the common Confederate canteen. The band for the body is made from two pieces. It has 4 strap retainers and the spout has a flare to it. In unfinished tin it is $65.00. Japanned finish is $15.00 extra. Stopper and strap are not provided.