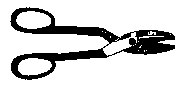 Lamp oil filler cans came in a variety of styles. This particular reproduction has several nice features:


a brass filler cap that screws into the top

cast ears for a bail

a turned wooden handle on the bail
a reproduction label for spermacetti oil
an angled handle on the back to make pouring easier
a two-piece angled spout


Variations would include a shorter version without the cylindrical bottom, a cork stopper in the top or a tin cap that slips on, sheet metal ears for the bail, no bail, a handle on the back (like a coffee pot handle) or a one-piece spout.

Price for the pictured item is $90.00.






A japanned tin inkwell set like this would not be out of place on a period desk or with an officer's kit. The side tins have removable domed lids and can be used to store stamps, pen nibs, wax seals, etc.. The middle tin has a glass inkbottle in the center and holes for inserting pens when they are not in use.
Special order - $100.00 - email for more information






I made this red-japanned peddler's horn and pair of japanned tin peddler's trunks for myself to use in living history presentations. The trunks are based on the ones in the daguerreotype at the right. The dimensions are based on the size of sheets commonly available during the mid 19th century. Using the evidence of another tin trunk in my personal collection I placed tin gores inside the corners that provide rigidity as well as supports for a tray. The horn has a brass reed that is tuned to make a loud and annoying "HONK!" My wife has forbidden me from blowing it in the house.

These are not available for sale.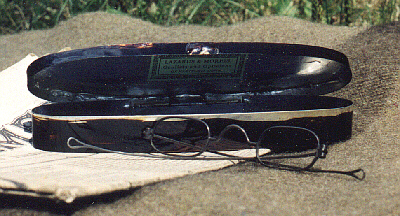 Spectacle cases came in many styles. By the Civil War period many were made out of stamped top and bottom. This represents an earlier style that was still in use during the Civil War. It is japanned and oval in shape with the flat top and bottom soldered into place.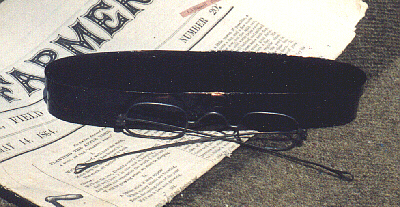 The top is hinged at the back. (View of the case closed.)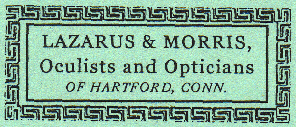 To the right is a close-up of the reproduced label on the inside. The bottom is lined with a piece of dark blue wool flannel. Price: $50.00 (Spectacles not included)



| | |
| --- | --- |
| | This is a reproduction of a painted tin "rocking ship" which ticks back and forth against a painted seascape background and has been installed in the top of a restored antique tall-case clock. Profile cut by Thomas Ryder, painting by John Peterson. For custom work such as this inquire for availability. |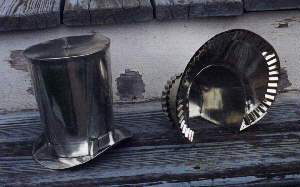 Miniature reproductions of ten-year anniversary gifts. Originals of custom- made wares such as these are very rare and sought after by collectors. These pieces, a bonnet and tall hat, were commissioned as ornaments to go on the Christmas tree in the Blue Room of the White House for 1999.
Not available for purchase.





Tin boxes. The round box on the right is three inches in diameter and has a true japanned (asphaltum) finish. It is copied from an original that contained a collapsible pewter cup.
Oval boxes - unfinished tin: $22.00; japanned: $25.00
Round box - unfinished tin: $17.00; japanned: $22.00








I copied this from an original at Old Sturbridge Village. This reproduction of a document box has seen some use. The ends are hand raised (domed) and the door is hinged.
Not currently available for purchase.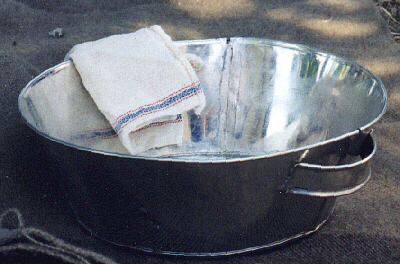 Wash basins like this are common from the nineteenth century. This one is made from four pieces (three for the sides, one for the bottom) and ears (handles) attached. It also has small tin buttons soldered onto the bottom to keep it from wearing out. Price: $50.00 (Towel not included but available from Lowell, Massachusetts National Park.)
| | |
| --- | --- |
| The Civil War increased the demand for tinned food.The can on the right is based on a patent taken out by R. Arthur in 1855. It features a lid that can be resealed - a "cement" or wax would be poured into the rim and the lid seated into it. The resealable can reproduction was a special order for someone. Because of several issues including liability surrounding the sharp edges on these cans they are not items that I regularly make for sale. If you want more information on reproductions of tin cans email me directly. | |
| | | | |
| --- | --- | --- | --- |
| | Occasionally I will take on odd custom work for a challenge. This is a recent project. I was contacted by a miniaturist who had made a doll-sized hoosier cabinet and needed the tin flour bin and sifter. The picture to the left gives a sense of the finished piece's scale. To the right is the bin and sifter installed in the completed cabinet. Compare the model to the full-sized item at the far right. | | |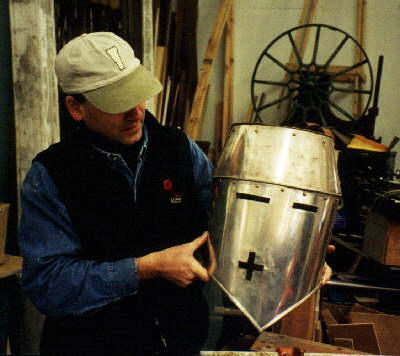 This is a special request that was made for fun. The top is actually a four piece wash basin. It has been converted into a "great helm" for a Halloween costume for Thomas Ryder.
Not available.